Digital channels are becoming critical to daily life – and they bring with them the opportunity to build conversations between businesses and people in a new, conversational approach. This makes digital marketing the most powerful marketing tool impacting different aspects of the 7P's of marketing.
However, most brands and organisations, apart from selective industries such as Hospitality and F&B, aren't geared to this. Brands in selected Asian countries are known to direct customers to alternate touchpoints such as call centres and agent callbacks, as opposed to continuing through the digital channel the conversation originated from. This primarily happens due to a lack of resources, tools and a proper community management process.
We, at Hiperlogy through Digibrush, have been assisting brands across multiple industries including Telco, retail and FMCG manage their digital communities and provide customer service functions for upselling, cross-selling and knowledge sharing.
Digital Community
Management is
Important!
2 billion active WhatsApp users – Are we geared to interact with them as brands?
900 million people use FB Messenger every month.
FB Messenger already accounts for more than 10% of all mobile VoIP calls globally.
Brand Tonality and Guideline Creation
Every brand has a unique personality. It is important that the same personality is visible when engaging with customers through Messenger and other digital channels. We create detailed guidelines, enabling your team or our team of digital community managers to live your brand with every word they type.
Implementation of tools
and processes
Our community management specialists will prepare processes and recommend tools required, after an initial evaluation of the brand, its community management goals and reporting requirements.
Training and Deploying of community managers
Community managers will be assigned after a demand audit in terms of digital queries and the operation will be managed by Hiperlogy. Each community manager will be trained with regards to the brand, tonality and a guideline on how to manage queries and complaints. The community managers will be geared to manage fans and website visitors by answering product and service questions, suggesting information about products and services, process orders, and to prepare correspondences and fulfill customer needs.
Implementation of query management systems
or prepare agents to use the system provided by clients.
on possible types of queries, quick answers, processes in handling complaints and reporting them to management.
which includes all product and service information required for an agent when replying to different types of inquiries and complaints.
Prepare weekly and monthly reports
based on the system used along with qualitative and quantitative data.
Gain insights into Chat
statistics and agent
Performance
Track, study and report the performance of your chats and agent in real time.
Visitor Statistics
Statistics regarding the number of open and closed conversations.
Filters
Advanced filters by channel, status and user.
Conversation History
The complete conversation history for all your chats.
Weekly Summary
Report on the number of groups, agents and coversations by channel.
Customers connect with brands around-the-clock and, at times, brands are unable to attend to such queries in real-time due to high demand through the channel or working hour policies. Hiperlogy's first-respondent bots are custom-made for each business situation to enable brands connect with customers no matter the day or time to achieve the following:
Achieve first-respondent tasks such as information gathering regarding a complaint, specific order number, contact details and passing on to the community manager – This saves time and creates a better service experience.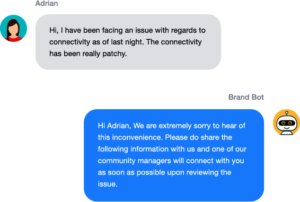 Open complaint tickets and provide ticket numbers for a follow-up through RPA. This keeps the process running around-the-clock since the customer has the power to lodge a complaint at any given time.
Interested in our services? Drop us a message
and one of our agents will get in touch with you.