A next generation digital management company that helps brands thrive in a Digital Economy by designing and managing technology-led services to engage with their digital customer.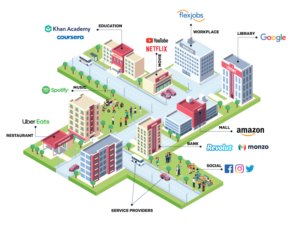 The world as we know it, is changing.
Physical world companies who have designed products and services to cater to the physical customer continue to look at digital as an alternative media channel to reach their customer, to whom they plan to sell using traditional commerce or e-commerce. Little have they realised that this method has already seen the demise of hundreds of strong brands in the past decade.
With a 9% YOY internet growth rate that will fuel the world to be a fully connected world by 2030, more Brands and companies are bound to shut down and truly digital companies such as Uber, Airbnb, WeChat, and Amazon are bound to grow and control the digital world.
Digital Management as a Service
Brands are visitors in the digital world and digital is not just a channel designed with the sole purpose of enabling brands to sell things to their customers. So having "buy this", buy now" messages delivered across multiple channels will not enable brands to co-exist in a digital world amongst their customers.
Digital Store Management Suite
The Hiperlogy End-2-End Digital Store Management Suite is a framework designed utilizing our decade-long experience in managing different aspects required for a business/Digital Store to succeed in a digital economy.
Robotic Process Automation (RPA)
Robots are here to stay. The faster you harvest their potential, the faster you create a competitive edge for your business. Robotic Process Automation delivers direct profitability while improving accuracy across organizations and industries. Enabling RPA to handle any processes will not only transform and streamline your organization's workflow.
Data-Driven Solutions and Platforms
Our process of creating data-driven websites and digital platforms stimulate your audience and its users to better interact and engage with your brand. Together with user-behaviour and a concise understanding of their intent, we design strategies that work and generate ROI for your brand.
Increasing digital sales by 150% for dominos
Crocodile: Digital Fashion Retailing
Covid-19 challenged every corner stone on how we operate. We saw the biggest and most rapid changes in consumer behavior like never before. Many brands weren't geared with what's needed to adapt to these changes through Digital retail.
Interested in our services? Drop us a message and one of our agents will get in touch with you.